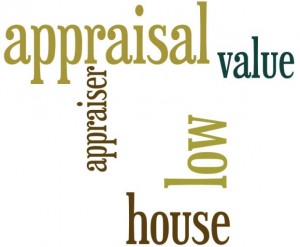 It's always frustrating, if not maddening, when the appraisal comes in low on a sale of a home. Buying a home is very emotional for both buyers and sellers, and the last thing anyone wants is some appraiser telling the parties involved that the home isn't worth what they agreed upon. Personally, I don't know of any appraiser who likes coming in low on the sale of a home; frankly it's a major headache. If there is a true arm's length purchase agreement between a willing and knowledgeable buyer, and a willing and knowledgeable seller – that is market value!
The challenge comes when they want to use someone else's money for their purchase- the banks. Appraisers don't make the market; we interpret it, and give our opinion of value based on that interpretation. When determining an opinion of value we also have to follow standards set by: USPAP, Fannie Mae, Freddie Mac, HUD (FHA), investor guidelines(Wells Fargo, B of A, Flagstar, etc.), the originating lenders guidelines, and then we have certify that our appraisal meets all of those guidelines.
The best thing to do is prevent a low appraisal in the first place, because it's very difficult to get an appraiser to change their opinion of value unless some egregious error has been committed. Be proactive, it's very easy to sit back and point fingers.
Get to know some of the lenders guidelines that appraisers are required to follow; this will help set a realistic price to begin with, and will help Realtors find some of the comparable properties that appraisers are required to use (in a declining market they typically will need at least two sales within 90 days, and also two active/pending listings).
Get a copy of the appraisal, and check for any major errors. Double check their math, and the calculation of the square footage of the home. Having a borrower order their own appraisal most likely it's going to be for their own use, the likelihood of a lender using that appraisal is next to nil.
Given the rhetoric that's going on about appraisers coming in low on appraisals, it would be well served if all parties involved would just sit back and chill-out. Believe it or not appraisers want to get it right. You can catch more flies with honey than with vinegar.
If you have any questions, or real estate appraisal needs (divorce, bankruptcy, tax appeal, or estate planning) please contact Michael at 612.599-2581, or use the form on the contact page.
No related posts.