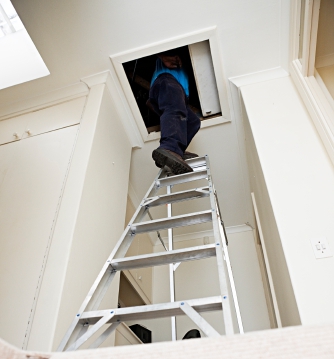 When doing FHA appraisals the appraiser is required to do what is called the "Head and Shoulders" test. The appraiser is required to inspect the attic and basement/crawl space to at least the head and shoulders level. The appraiser should use a flashlight or similar device to illuminate the space being inspected; photographs are required for any deficiencies to document any needed repairs, or other required inspections by a third party.
Proper ventilation of the roof or attic area.

Hazards (missing/loose duct work, wiring, etc.)

Hole in the fire barrier wall between the house and garage.

Leaking roof, and/or any water or moisture damage to sheathing or roof trusses.

Standing or pools of water (crawl space).

Structural problems.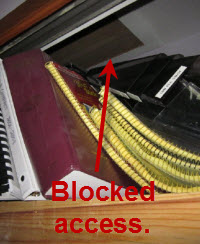 Appraisers must have access to the attic and crawl space. If this area is blocked then the lender will have to be contacted and reschedule an inspection. This would most likely result in an unwanted re-inspection fee. It's not the responsibility of the appraiser to move homeowner's personal belongings and furniture to gain access (can you say major liability issues). Some attic spaces do have more than one access entry point, and depending on the area that the appraiser is able view, both may have to be made available.
If the appraiser is unable to gain access:
Lender will be contacted to reschedule the inspection.

If access isn't feasible, then the appraisal is conditioned upon a satisfactory inspection by a qualified third party.

If the design is such that an inspection isn't possible (flat roofs, vaulted ceilings, etc.) then the appraiser will indicate that within their report.
It's important to note that FHA requires that the attic and/or crawl space to be inspected; sealed scuttle doors, clutter/furniture blocking entry doesn't qualify as reasons that an inspection can't be done.

If you have any concerns about any of the above issues please feel free to contact me for clarification.
Related posts: